Unique, High-Impact Online Soft Skills Training
Fuel business growth with tailored online programs in soft skills, leadership & management. Our industry-specific training is designed to empower your team at all levels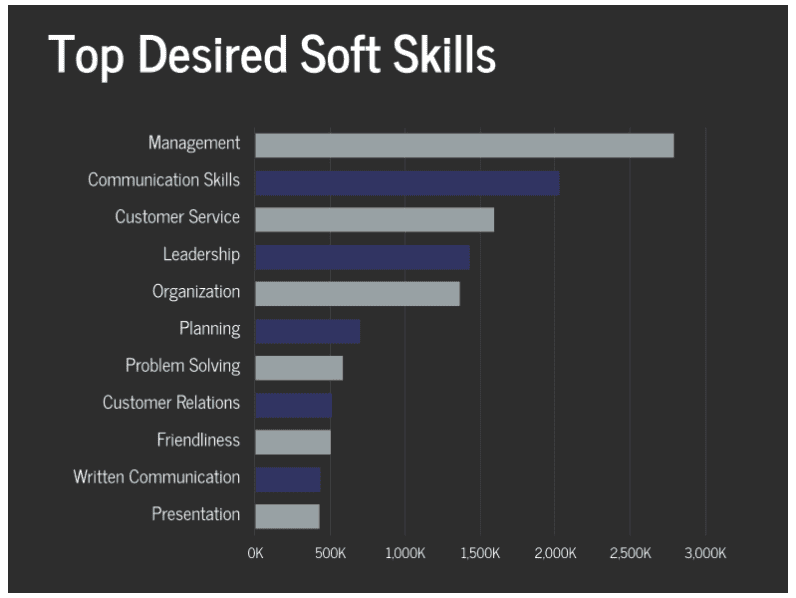 Empowerment
Assertiveness
Responsibility
Conflict management
Cultural sensitivity
Customer relations
Dependability
Diplomacy
Flexibility
Initiative
Integrity
Organizational skills
Prioritization
Professionalism
Teamwork
Tenacity
Anticipation
Authenticity
Compassion
Cooperation
Creative thinking
Critical thinking
Customer focus
Dedication
Detail orientation
Diplomatic communication
Drive for results
Empathetic listening
Endurance
Ethics
Foresight
Humility
Imagination
Intercultural communication
Leadership by example
Learning agility
Listening skills
Logical thinking
Mentorship
Open-mindedness
Optimism
Organizational awareness
Outcome orientation
Patience
People management
Planning and goal setting
Positive attitude
Problem-solving
Proactivity
Professional development
Relationship management
Resourcefulness
Results orientation
Risk-taking
Self-discipline
Self-management
Self-confidence
Social intelligence
Storytelling
Strategic agility
Strategic direction
Strategic planning
Stress management
Tact
Talent development
Team building
Team leadership
Teamwork and collaboration
Time and priority management
Vision and mission setting.
Leadership and Management
Building Resilience in the Workplace
Goal Setting and Achieving Results
Managing Change in the Workplace
Developing Executive Presence
Coaching and Mentoring for Managers
Project Management Essentials
Leading Remote and Virtual Teams
Team Building and Collaboration
Strategic Thinking and Planning
Data Analysis and Decision Making
Leading with Purpose and Vision
Change Management Strategies
Developing a Growth Mindset
Leading Innovation and Creativity
Maximizing Productivity and Focus Through Mindfulness
Navigating Organizational Politics with Finesse
Leading Through Digital Transformation
Leading Through Mergers and Acquisitions
Leadership Communication in Times of Crisis

Building a Successful Business Plan
Managing and Motivating Remote Teams
Adaptive Problem Solving for Leaders
Leadership Coaching for Executive Success
Leading with Empathy and Authenticity
Advanced Leadership Strategies for Effective Decision Making
Business Ethics and Corporate Social Responsibility
Managing Remote Teams Effectively
Driving Innovation Through Human-Centered Design
Building a Positive and Productive Organizational Culture
Leading Through Crisis: Lessons from the Frontline
The Future of Leadership: Navigating Disruption and Change
Effective Managerial Communication
Managing Employee Performance and Accountability
Building and Managing High-Performance Teams
Strategic Planning and Execution for Managers
Managing Organizational Change
Coaching and Developing Employees
Developing and Implementing a Management Development Plan
Managing Supply Chain Operations.
Emotional Regulation
Mindfulness
Resilience
Empathy
Self-awareness
Self-management
Social skills
Active listening
Conflict resolution
Cultural sensitivity
Diplomatic communication
Empathetic listening
Humility
Social intelligence
Stress management.
Diversity, Equity and Inclusion
Diversity, Equity and Inclusion Training
Inclusive Leadership for a Diverse Workplace
Leading with Inclusion and Cultural Intelligence
Developing and Implementing Effective Diversity and Inclusion Strategies
Leading with Diversity, Equity, and Inclusion
Managing and Leading Multicultural Teams.
Emotional Intelligence in Sales
Customer Service Excellence
Customer Relationship Management
Inclusive Leadership for a Diverse Workplace
Leading with Empathy in a Global Workplace
Advanced Emotional Intelligence for Sales
Emotional Intelligence in Conflict Management
Leading with Emotional Intelligence and Empathy in Customer Service
Building a High-Performance Sales Team
Driving Business Growth through Innovation and Design Thinking.
Project Management Essentials
Advanced Project Management
Managing Project Risks and Uncertainty
Agile Project Management
Managing Complex Projects
Project Management Tools and Techniques.
CEO - Consulting & Outsourcing Firm - USA
"An exceptional soft skills library of video content and structure that aligns totally with the challenges and demands of corporate adult learning requirements for knowledge-centric employees. I recently conducted my initial soft skills learning session with 36 offshore employees and the reviews were all 5 stars!"
Director - Health Career Center - USA
We have absolutely loved the soft skills online courses. Our school offers training for health related careers. We show the soft skills videos to each class at the end of their program and the response has been overwhelming. The students have found the information very helpful and are very complimentary of the quality of the videos."