Who We Are
Welcome to eSoftSkills Training Solutions, your go-to for all of your professional growth requirements.
We are a dynamic and inventive business that specializes in providing comprehensive training solutions for personnel development, leadership, management and soft skills.
Our group of experienced trainers and educators is devoted to aiding individuals as well as organizations reach their highest potentials while remaining ahead of the competition within their relevant arenas!
If you are seeking to equip your staff with the necessary talents, cultivate yourself as a leader, or expand both individually and professionally—we have all that is needed for you to succeed. Our wealth of knowledge and expertise will assist in helping drive growth within your organization.
Our programmes are highly engaging, interactive and intended to supply invaluable knowledge that can be utilized straight away.
At eSoftSkills, we recognize the necessity of continual professional advancement. Our training solutions are tailored to your budget and requirements so that individual growth and corporate upskilling is not only possible but convenient as well. Whether you're an aspiring learner or a business looking for employee development, our services can help make it happen.
---
Mission Statement
At eSoftSkills Training Solutions, our aim is to equip HR & training managers with the resources they need to create an impactful learning experience for their employees and management team. We offer quality tools, training programs, and solutions that are designed to maximize your organization's performance so you can reach your business objectives. Our comprehensive yet innovative approach gives clients access to the highest-quality training material which will help them boost their capabilities and achieve success in a competitive environment.
---
Company Values
Customer Focus: Our main priority is our clients. We make sure to tune in and attentively listen to their feedback, allowing us to create personalized training solutions that supplement their particular challenges and ambitions. By delivering efficient services based on what they need, we never fail at surpassing expectations.
Dedication to Improvement: We are committed to providing our clients with the best services and top-notch training. Our team is constantly researching for new trends, exploring innovative approaches, and updating ourselves on the current developments in this industry — all so that we can continue to provide you with exceptional offerings.
Collaboration: Our main priority is our clients. We make sure to tune in and attentively listen to their feedback, allowing us to create personalized training solutions that supplement their particular challenges and ambitions. By delivering efficient services based on what they need, we never fail at surpassing expectations!
Quality: Excellence: Our team is devoted to giving our customers the finest training solutions and resources available. We proudly uphold rigid standards of excellence in all of our services, guaranteeing that each program we offer are based on facts, successful, and captivating.
Integrity: Integrity is the cornerstone of what we do. We are devoted to conducting our business with transparency and fairness, aiming to exceed expectations in terms of integrity, honesty, and professionalism at all times. Our ambition is always to establish strong relationships founded on trustworthiness and reciprocated respect.
---
Get In Touch
If you have any questions or would like to learn more about our training solutions, please don't hesitate to get in touch.
Our team is always available to assist you and help you achieve your goals.
email us at help@esoftskills.com
41 Connaught Road, Central, Hong Kong
21 Lower Kent Ridge Rd, Singapore 119077
300 e lombard st baltimore md 21202 USA
---
Meet the Management Team
eSoftSkills Training Solutions is devoted to offering the best in corporate training solutions and online courses, designed to empower individuals and organizations with a set of refined soft skills, leadership aptitudes, management capabilities, sales prowesses and marketing finesse. Allow us to introduce you to our superior team of professionals who are making it possible!
Jack Lim – CEO
Jack Lim, a certified training and development professional with an MBA degree, leads eSoftSkills Training Solutions to make exceptional learning available to everyone. Jack has been involved in corporate education for more than 15 years and his genuine enthusiasm for helping others is what drives him to take control of the company. His goal? To create top-notch resources that are easily accessible.
Matthew Lee – Chief Operating Officer
eSoftSkills Training Solutions is incredibly fortunate to have the expertise of Matthew Lee on our team. His background in project management and senior leadership roles at several renowned training companies allows him to guarantee that each course runs seamlessly, allowing for an optimal experience for our clients. In addition, his qualifications extend beyond professional sphere — he holds a Bachelor's degree in Organizational Development as well as a Master's degree in Education from accredited universities.
Angela Li – Director of Content Development
For the last 3 years, Angela Li has been responsible for developing and creating all eSoftSkills online courses. Showcasing her deep understanding of current instructional approaches as well as skill in curriculum design, she is devoted to crafting relevant content that captures attention while also being practical and effective. With an impressive Master's degree in Education coupled with certification as an education specialist under her belt, Angela ensures successful completion of the task at hand.
Lisa Wilhelm – Human Resources Partner
Lisa Wilhelm is a dedicated HR Partner and key member of our management team, whose vast experience in talent management spans multiple leading companies around the world. Lisa understands that people are an organization's most valuable resource and she works tirelessly to ensure that each employee has the resources they need to offer top-notch service to our clients. With her Bachelor's degree in Human Resources Management as well as PHR certification, Lisa stands out above all else when it comes to supporting teams with effective human capital strategies.
Our incredible senior management team at eSoftSkills Training Solutions consists of passionate professionals with a unified mission: To aid individuals and businesses reach their training and development aspirations. Together, we are devoted to providing the highest level of service to our customers.
Our Course Content Creation Freelancers from the USA, Canada, Ireland and the UK
At our company, we firmly believe that the excellence of our training programs begins with excellent course content. That being said, we are delighted to partner with experienced and highly knowledgeable freelancers from America, Canada, Ireland and Britain for producing top-notch quality content for many of our training courses!
At our organization, we strive to ensure that each and every one of our freelance professionals possesses both industry expertise as well as experience. All freelancers have a deep background in their area of knowledge and bring an array of perspectives which are instrumental in crafting dynamic, impactful training programs tailored to the needs of businesses within various industries.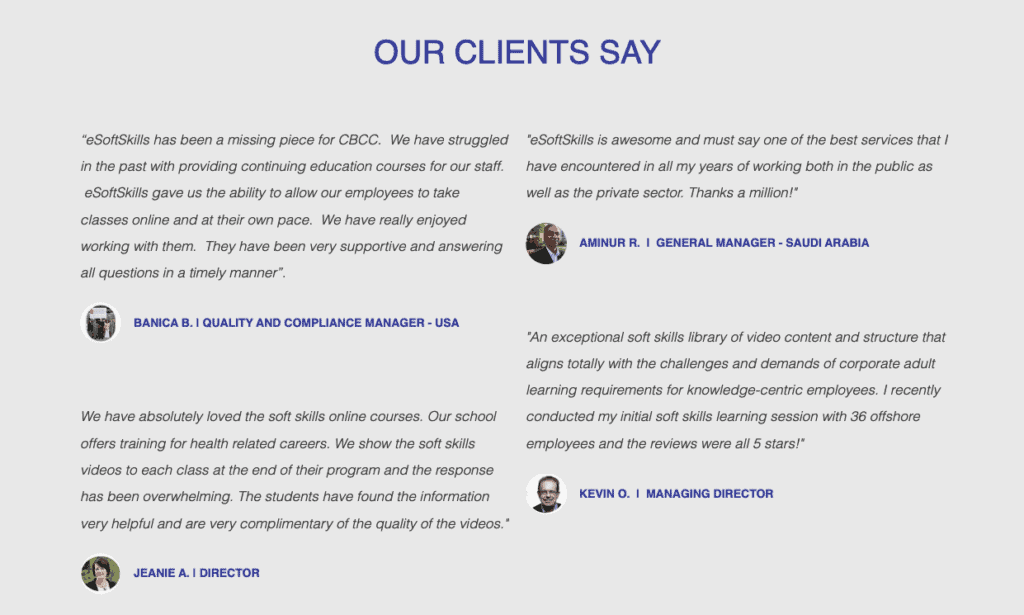 ---